---
admin
When an Embassy in Kensington, London, reached out to us for a professional carpet cleaning quote, we were pleased to find that the client had found us through a Google search and that it was our past customer reviews which convinced them to contact us over our competitors.
Based on the testimonials of others, the client decided that our professional manner and efficient results were the ideal match for their job – which involved cleaning the carpets of two interior spaces, including the removal of evidence from a past flood in one of the rooms. 
Two members of our team attended the site and were able to complete the job in the space of 90 minutes – with the results satisfying the requirements of the client and achieving the best finish within a short space of time. 
The service
As a professional carpet cleaning company, a large part of our work involves complex stain removal – both in terms of spilt substances and watermarks from floods and more. Carpet is typically used in both residential and commercial spaces where comfort is key, with the Embassy client in Kensington, SW1X using carpet to soften the aesthetic of the space and ensure that the experience of users is comfortable and welcoming. However, carpet can easily be subject to dirt and stains from the high footfall, particularly within commercial spaces such as the Embassy building, and so when our team had completed the job, we made sure to advise the client on some tips for ongoing maintenance and upkeep of their flooring. 
How we achieve the perfect clean
Every job we attend, whether it's a commercial space or a residential building, benefits from the same high-quality equipment and attention to detail. 
Our work with clients starts when you get in touch, whether it's via recommendation, through Google, or via another outlet. Based in London and with our team working six days per week, we can have a cleaner with you on the same day that you get in touch if preferred – acting fast to get rid of stains before they set into the fabric of your commercial or residential space. 
With the top equipment to support our deep carpet cleaning service, we combine the right tools with an effective and efficient team, leaving your carpet in top condition every time. 
How we completed the Embassy carpet deep clean
On arrival at the Embassy in Kensington, we found that the main problem with the carpet was that past flooding had allowed the carpet to become watermarked and subject to additional staining. Not only was the carpet tired looking and faded in parts, but the added marks from shoes and furniture had left it looking worse for wear. 
NEXT DOOR TIP: One thing that our clients so often overlook is the importance of flooring in creating the overall aesthetic of a space. While carpet is a welcoming and comforting flooring type for those spaces that you want to soften, if it is not well kept it can cause the entire room to look outdated and uncared for – not to mention it can become a trip hazard if allowed to become worn and torn in parts.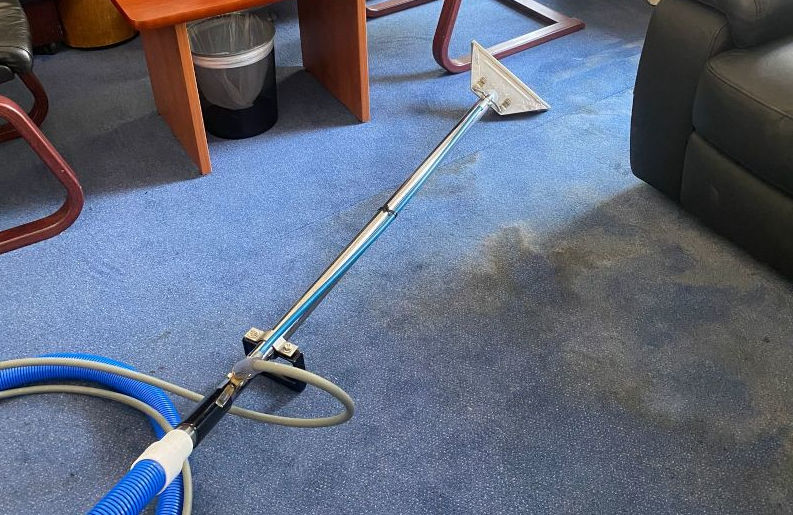 The first step on arrival in Kensington was to move all of the furniture in the designated rooms for cleaning. As part of our carpet cleaning service, we can move furniture as required, to minimise the disruption to you while ensuring that we can achieve a consistent finish across the entire room. 
We then vacuumed the entire space to make sure that debris and dust did not get in the way of the deep clean, and then tackled the watermark stains using an industrial-strength stain remover and some old-fashioned elbow grease – an unbeatable combination which works every time. 
Finally, we used our Ninja Cleaning Machine 400 PSI to tackle the entire carpet and to even out the marks as much as possible. This carpet cleaning machine is one of the best on the market and allows us to tackle large stains as well as smaller marks and the overall impact caused by wear, tear, and high footfall. 
NEXT DOOR TIP: When it comes to cleaning carpets, the only thing more important than cleaning the carpet effectively is letting it dry before you use the space again. 
When a carpet is not effectively dried after the cleaning process is complete, it can easily become marked as soon as people start walking on it and furniture is replaced. Because of this, every job we complete sees us speed up the drying process with a series of fans and heaters, passing on the advice to our clients that they should turn up the heating in that room for a few hours to help the carpet dry out. 
This, paired with our advice for ongoing carpet maintenance, is designed to give clients longer-term results.
Does your carpet need a clean?
Whether you have the same problem as the Embassy in Kensington in the form of a large, watermarked stain, are tired of seeing the same marks in the entranceway of your home or building, need a post-tenancy deep clean, or simply want to refresh the look and feel of your carpeted floors, Next Door Cleaning offers a high level, effective, and efficient service across London. 
To receive a tailored quote for your job, no matter how big or small, get in touch with our team today or visit our website to learn more about the services that we offer and how we can breathe new life into your business premises, home, or commercial space.