Give your carpet a brand new lease of life. Our team of cleaners are ready on hand to provide a quick, professional and hassle-free carpet cleaning service across London. Your carpets are the interiors within your home that need the most maintenance, which is why we use detergents that kill 99.9% of germs but aren't harmful to humans and pets. 
Short Notice Bookings Available
Carpets are a great choice when it comes to choosing the flooring for your home. They provide extra warmth in the room and can elevate your interiors. Now you've taken the time to choose the flooring in your home, and have gone through the process of having it installed, the only problem you may have now is keeping it clean. 
We can tackle all kinds of material; carpet, mattresses and sofas, and all kinds of stains too. No stain is too big or too small for us, as our cleaners have years of experience and powerful hot water extractors to help remove any deeply ingrained dirt or liquid. Carpet cleaning is recommended twice a year to keep your floors looking their best.
Our Customers Benefit From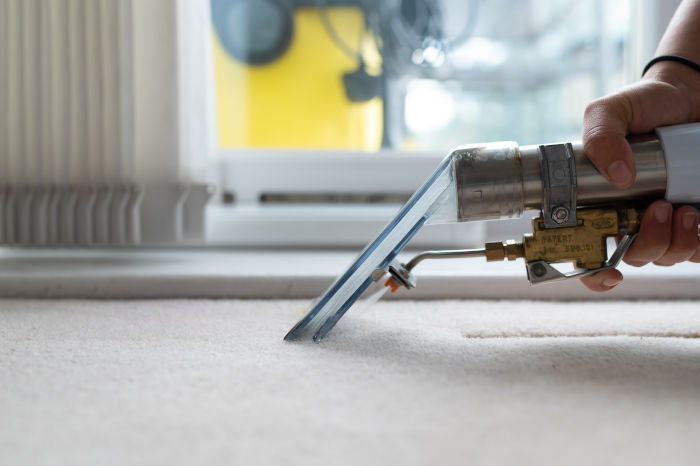 Don't let cleaning disrupt your daily routine. We understand that cleaning shouldn't get in the way of your day, that's why it's up to you to decide when you want your home to be cleaned.
Carpets are a breeding ground for bacteria, germs and dust particles, so it's essential that you keep them as clean as possible. Maybe someone in your family is particularly susceptible to allergies, or maybe you yourself are, you will find that the airborne particles which can settle in your carpet may be exacerbating the problem. Any germs which may be living in your carpet may actually be causing you serious health problems, especially in age groups like children and the elderly. There are simple things you can do every day to improve the health of your carpet, like vacuuming, but this only tends to remove surface-level dirt, not the dirt which has managed to infiltrate the fibres of your carpets.
Where we work
West London and Central London: Chelsea, Fulham, Ealing, Hammersmith, Kensington, Brentford, Southall, Ashford, Isleworth, Hounslow, Kingston, Twickenham, Richmond, Pinner, Harrow, Windsor, Slough, Wimbledon, Wembley, Chiswick. Click here for a full list of areas and post codes.
We cover West and Central London. So, if you've got a stubborn stain that just won't go away, don't leave it on your carpet any longer. Let our team of trained cleaners and top-grade equipment help you out.
Our Advantage
A team of trained and trustworthy cleaners 

Next Door Cleaning are proud to be a women-owned business
There are so many advantages to getting your carpet professionally cleaned, but we mean it when we say there is no feeling like looking at your carpet once it has been cleaned. It will look brighter and will improve the appearance of your home. When dust and dirt get into your carpet, it can lead to fibres becoming matted and dull. This could be the answer if you are worried about your flooring looking flat. Our expert carpet cleaning service will once again bring your carpet back to life and will remove the dirt matting the fibres. This way your carpet will feel soft and like new.
Frequently Asked Questions
Keeping your carpets clean is important for many reasons. The first is that looking after your carpets will actually improve the lifespan of them too. You might have put a lot of time and effort into choosing the perfect carpet for your home, so make sure you're making the most of it. 
The second reason you should be looking after your carpets is that they are a feature within your home that is most noticeable and can affect the aesthetic of an entire room. A huge red wine stain is never going to look aesthetic in the middle of your living room. Dull carpets can mean dull interiors, so watch out for this when thinking about cleaning your carpets. 
And if you need a final reason as to why you should get your carpets professionally cleaned, it could be beneficial to individuals in the house who suffer from allergies. Carpets are a breeding ground for bacteria, mud and dust particles, and allergies can be exacerbated by dirty carpets. There are simple things you can do every day to prevent this, like using a vacuum cleaner. However, nothing will be able to remove ingrained dirt and dust which has infiltrated the carpet fibres like our top-grade hot water machines. 
Our cleaning methods are always tried-and-tested. The best method when cleaning a stained carpet is to use a hot water extraction machine, paired with professional stain-remover chemicals. It's an unbeatable duo.
Hygiene and cleanliness are our number one priority, so we don't cut corners when cleaning your home. Our usual method involves a machine clean of the carpets in each room of your home (we can even move furniture if needed), followed by your stairs. If you are looking to tackle a stained area within your home with our service, this is a manual process. Removing a stubborn stain usually takes a mixture of things; a chemical, brush and machine, as well as some old-fashioned elbow grease.    
It won't take us long to get your flooring looking brand new again. Depending on the size of the property and the volume of stains, the time the carpet cleaning process takes really does vary. For example, a three-bedroom house would take between 2 to 4 hours to clean, depending on the type and amount of stains on the carpet. 
We offer a completely hassle-free service, which means it's up to you whether you want to be in the home when the carpet cleaning process is taking place. Our quick carpet turnaround means your home can resume normal business once more.
We know that it can be annoying waiting for your carpet to dry when you just want to use the room as normal. That's why we provide a solution to this – our air mover machine! The air mover will be used while we work to ensure that you'll be able to sleep in those rooms the very same night. 
That's right, our priority is efficiency, but we also do a great job too. So, we make sure the end result of our cleaning process will be a carpet that needs to be left for only 2-4 hours, rather than 24 hours.
Not only are our cleaners experts in the field, but they also have exceptional industry-standard equipment which makes the carpet cleaning process as effective as it possibly can be. 
Our cleaners come equipped with specialised equipment from Ashby's, Prochem cleaning products and our handy air mover machine.
We make sure to employ detergents that are safe for any furry friends you may have in your home. If you do have any concerns about the cleaning products we use, do not hesitate to communicate this with the team, and hot water only cleaning can be done instead.
Our customers will benefit from an extremely competitive price and a non-disruptive cleaning process. On top of this, you will get a five-star cleaning service to make your home shine once more. Want to see for yourself? Just look at some of our reviews.
Areas and Postcodes We Cover in and Around London
W1; WC1; Wc2; NW1; EC4A; EC4Y; NW13; NW14; NW15; NW16; NW6; NW8; SW1A; SW1E; SW1H; SW1P; SW1V; SW1W; SW1X; SW1Y; W10; W11; W1B; 
W14; W8; W9; W10; W12; W2; SW7; SW10; SW5; W11; SW1W; NW10; SW3;