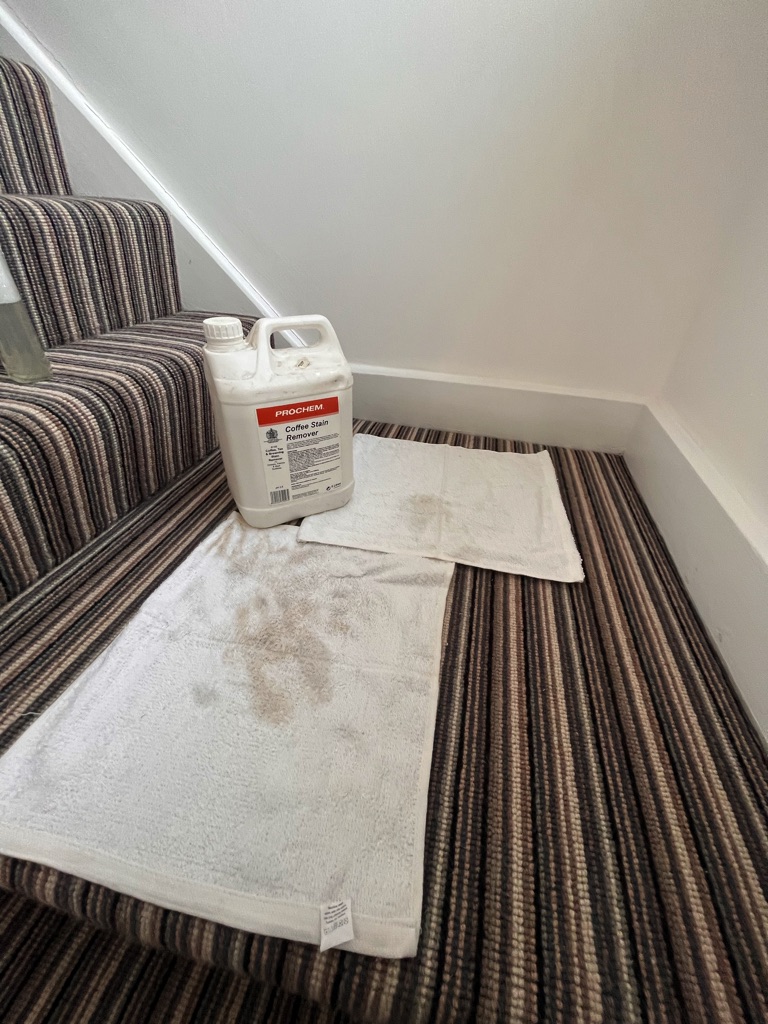 Stain Removal
Stains are one of the biggest fears of carpet owners. A large, dreadful splotch right in the middle of an expensive rug would surely tarnish the aesthetic of your space, not to mention diminish the value of the carpet. But worry no more, because the stain removal services here at Next Door Cleaning are simply astounding. With powerful chemical solutions and modern cleaning techniques, we are able to eliminate most stains – food and beverages, bodily fluids, grease, rust, paint, cosmetics – and restore your carpet's flawless appearance. We can even remove chewing gum and candle wax from most fabrics.
Whilst we take pride in our exemplary cleaning service, there are some stains that we would not be able to remove as they have become permanent. Such examples are those treated with the wrong type of chemicals, or that have been left in the fabric for longer than 12 hours. Natural carpet pile, such as those found in oriental rugs, wool or sisal, is also highly susceptible to stains and it might be impossible to remove them.
In order to get optimal results, we advise you to call us as soon as possible, before the stain has the chance to set in and cause permanent discolouration. We also provide protective treatments for newly cleaned carpets and upholstery to boost stain and soil resistance.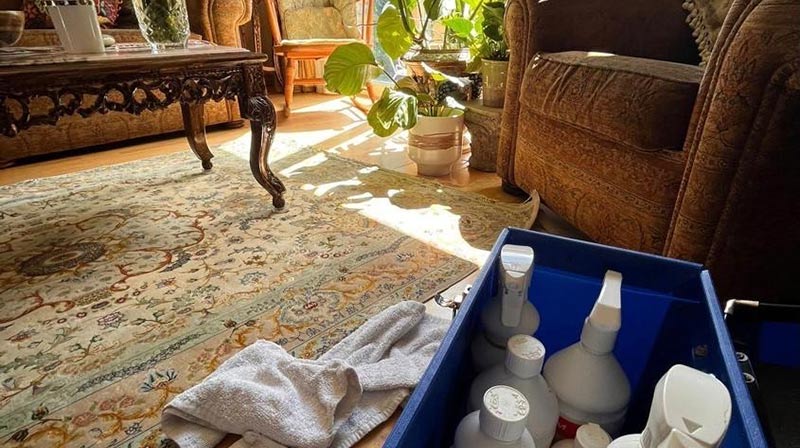 Why Next Door Cleaning ltd?
What People Say About Our Work
Where We Work In London?
West London and Central London: Chelsea, Fulham, Ealing, Hammersmith, Kensington, Brentford, Southall, Ashford, Isleworth, Hounslow, Kingston, Twickenham, Richmond, Pinner, Harrow, Windsor, Slough, Wimbledon, Wembley, Chiswick. We cover West and Central London. So, if you've got a stubborn stain that just won't go away, don't leave it on your carpet any longer. Let our team of trained cleaners and top-grade equipment help you out.
Professional upholstery cleaning companies like Next Door Cleaning have the expertise and equipment necessary to identify the correct cleaning method and products for each fabric. They can perform a deep clean without damaging the material and leave your furniture looking and feeling clean and refreshed.
Using the right cleaning products and techniques is essential for maintaining the appearance and lifespan of your furniture. Professional upholstery cleaning companies like Next Door Cleaning have the expertise and equipment necessary to properly clean and maintain your furniture without causing any damage.
Areas and Postcodes We Cover in and Around London
W1; WC1; Wc2; NW1; EC4A; EC4Y; NW13; NW14; NW15; NW16; NW6; NW8; SW1A; SW1E; SW1H; SW1P; SW1V; SW1W; SW1X; SW1Y; W10; W11; W1B; 
W14; W8; W9; W10; W12; W2; SW7; SW10; SW5; W11; SW1W; NW10; SW3;
Are You Ready To Book Your Upholstery Cleaning Service?
Our experts can provide professional upholstery cleaning support for all London Boroughs and anywhere around the M25. We are immensely proud to use some of the leading high-end equipment as part of our professional cleaning services; it's just part of guaranteeing excellent customer results without compromise.
Booking is almost effortless – so why not request your free estimate quote today?