Say goodbye to losing sleep over getting your deposit back. Or maybe you're a landlord, who wants your property to be sparkling clean for the new tenants. Whatever situation you're in, make sure the house is left looking as good as new.
Short Notice Booking End of Tenancy Cleaning
If you're a tenant and moving out, then don't worry about cleaning, we've got you covered. Our cleaners can complete a deep clean before you leave the property, which means your deposit will remain intact. Hiring professionals to complete your end of tenancy clean is also cost-effective in the long run. If you were to attempt to clean the property yourself, you would have the added expenses of buying all of the specialist cleaning supplies and products in order to have the place sparkling by the end. When you pay for our end of tenancy cleaning service, you are paying for more than just the labour. You are paying for (and will also benefit from) the industry-standard cleaning materials that we bring along with us.
The service includes:
If you are a landlord, our team can help you prepare for your new tenants. Nobody wants to arrive at an unclean home, so make sure that your old home looks brand new for your tenants. Some landlords find themselves faced with a problem when they haven't got the turnaround time to complete a deep clean of the property. This may mean that the new tenants are greeted with a new home which isn't up to the standard it should be. Save yourself the worry of being hit with complaints and welcome Next Door Cleaning into the house, to ensure your property is spotless.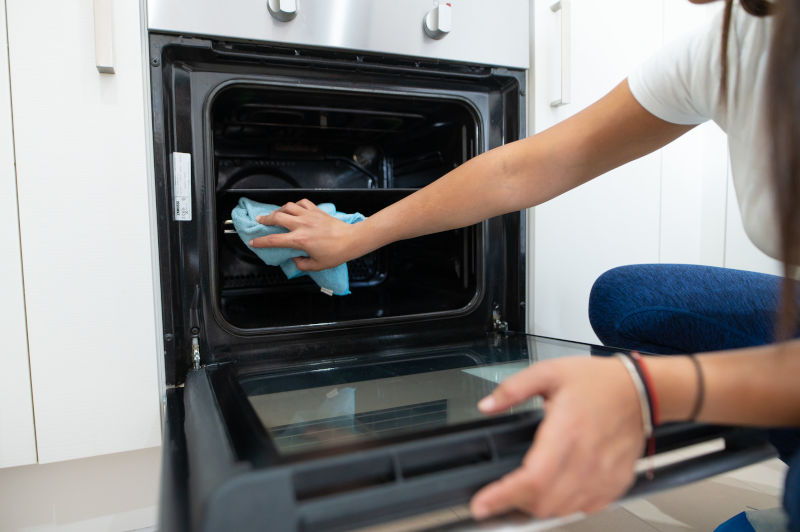 Areas of coverage
The good news is that if you're in the Central London or West London area, we can come and clean your home. The areas we cover include; Chelsea, Fulham, Ealing, Hammersmith, Kensington, Brentford, Southall, Ashford, Isleworth, Hounslow, Kingston, Twickenham, Richmond, Pinner, Harrow, Windsor, Slough, Wimbledon, Wembley, Chiswick. Click here for a full list of areas and post codes.
Tenants: Making sure that the house is in a fit state to give the keys back can seem like a huge task. Moving out is never an easy task, combined with the added pressures of having to complete an end of tenancy clean is a disaster waiting to happen. It is likely that the cleaning will get neglected and then you may have the added worry of whether or not you will receive your deposit back. Simplify the moving out process by occupying yourself with tasks that matter, and leave the cleaning to us.
Landlords: As a landlord, we know that you may not have time to complete the cleaning job yourself. You may have other priorities and other commitments in your life. Sometimes tenants leave at a time which is inconvenient to you, which may result in added stress. So, leave the cleaning to us. This way, you can prioritise the commitments and jobs which may be urgent.
An advantage that might not have crossed your mind is that with letting us do your end of tenancy cleaning, it means that you can focus on a higher occupancy rate. As a landlord, if your property remains empty, you are losing critical money. You want to do what you can to ensure that this is not the case. When tenants are looking for a new home to rent, they are likely to look at multiple properties in the area, all of which are within their price range. When it comes to comparison to other homes, you want yours to stand out and look the best. A property that is not clean may put off any future tenants. The best thing is to avoid this scenario completely by making sure your property is always cleaned between tenants.
Frequently Asked Questions
If you're a tenant, don't lose sleep over not getting your security deposit back. You might have a large stain, a dirty bathtub, or are just looking for a general clean. If you're a landlord, make sure your property is looking its best for the arrival of any new tenants. Whatever the situation, our cleaners are ready and waiting to lend a helping hand.
Our end of tenancy cleaning service involves a clean of your window frames and windows (inside only), skirting boards, power outlets and heaters and radiators. We tailor our services to each room inside the property. For example, when cleaning kitchens we also clean home appliances inside and out.
Your floors will also look sparkling once our mops and industry-standard equipment is finished with them. Or, if the property is carpeted, our efficient vacuum cleaners will have the carpets feeling soft and fluffy again.
Our team will make sure to do a thorough clean of your home. We will tackle your kitchen, bedrooms, living room, hallway, stairs, conservatory or any extensions you may have. We will even clean your cloakroom and porch. If you do have an additional area to your home, like a balcony, this can be cleaned at an extra cost.
Our cleaners will give your kitchen some TLC after tenancy, so we will clean your cupboards inside and out and kitchen floors. On top of this we will also clean any home appliances in your kitchen:
Washing machine

Refrigerator 

Oven

Dishwasher 
If you do want a specific appliance cleaning, feel free to leave us a checklist and we'll do our best to get them done.
Bathrooms are an area where dirt, dust and grime can build up quickly. We make sure to clean:
The bathtub or shower

Toilet

Sink 

Tiles and tiled walls

Heaters or radiators 
It doesn't stop there. We also clean any limescale and mould. Please note, mould from silicone is not possible to be cleaned. The only solution you have is to change the silicone.
In the bedrooms, our cleaners will focus on areas which often get dusty and dirty, such as:
Windows 

Skirting boards

Power outlets

Heaters or radiators

Mirrors 

Curtains 

Mattresses
No. Of course, if you would prefer to be present when the cleaning takes place then that's fine. But it's not essential. We understand that you might have more important things to do.
Yes. We know that as tenants and landlords, you may not have access to all the necessary cleaning equipment and supplies. So, they are all provided for you with our end of tenancy cleaning service. 
A lot of our products and tools are the best in the business! All of our equipment is specialised and comes from Ashbys and we also use Prochem cleaning products. 
When doing carpet cleaning, to make sure your carpets are cleaned and dried as quickly as possible, our air mover machine lends us a helping hand to speed the process up. If you're a landlord, this means you can get tenants in and out. If you're a tenant, it means you're one step closer to getting your deposit back. 
For ultimate efficiency, we send a minimum of two cleaners out to a property at one time. Depending on the property size, we may send up to a maximum of six cleaners.
For our end of tenancy cleaning service, the property does need to be empty to allow us to clean. Additional charges may apply if there is any furniture inside the property when our cleaners arrive.
You won't be hit with any surprise payments from us. We pride ourselves on being open and honest about the cost of our services. The only additional charges you may get is if we need to pay a congestion charge to get to the property, or if we need to pay for parking to make sure our vans are near the house.
Areas and Postcodes We Cover in and Around London
W1; WC1; Wc2; NW1; EC4A; EC4Y; NW13; NW14; NW15; NW16; NW6; NW8; SW1A; SW1E; SW1H; SW1P; SW1V; SW1W; SW1X; SW1Y; W10; W11; W1B; 
W14; W8; W9; W10; W12; W2; SW7; SW10; SW5; W11; SW1W; NW10; SW3;