Professional Window Cleaning Services 
It's a well-known fact that being able to see the sun and the sky can often have a significant impact on our happiness and well-being. However, if your property's windows have begun to get dirty, seeing out of them can be more of a misery than a delight! Luckily, though, this should not be the case, and as a result, we have invested in some of the best external window cleaning tools and equipment on the market to help you.
If you ask us, professional window cleaning services are necessary for almost any home in and around London. Indeed, a lot goes into professional window cleaning services and finding the right approach can be challenging.
Our services are based on purified water, minimising the chemicals exposed to your property's windows. Moreover, our professional approach to window cleaning services ensures that any previous detergent residue on your windows is washed away. Hence, your windows remain in top condition for as long as possible!
Why Professional External Window Cleaning?
External window cleaning in London can be a challenging task, especially for people living in higher floors of buildings. It can also be time-consuming, and without the right equipment and skills, it may not yield the desired results. Hiring a professional window cleaning company such as NextDoorCleaing can save you time and ensure your windows are cleaned safely and efficiently.
One of the main advantages of hiring a professional window cleaning service is safety. Professional window cleaners are trained and experienced in working at heights and using specialized equipment to clean windows safely. They are also insured, which means that in case of an accident, you won't be held liable.
Another advantage is the quality of work. Professional window cleaners use specialized cleaning solutions and equipment to achieve a spotless and streak-free finish. They have the skills and knowledge to remove stubborn stains, dirt, and grime that may have accumulated on your windows, leaving them looking sparkling clean.
Clean windows also have health benefits. By removing dirt and grime, you also reduce the chances of allergens and pollutants entering your home, creating a healthier living space.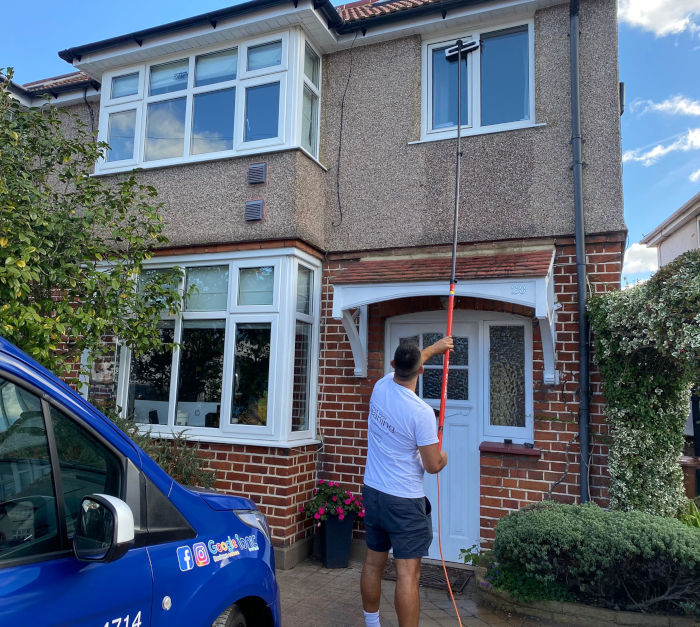 Last-Minute Solutions to Suit Your Business
If you've had enough of seeing dirt on your property's external windows, our experienced and accredited cleaning team is here to help! We can provide last-minute cleaning solutions within twenty-four hours to help bring your exterior windows into the best condition possible.
Discover Top-Rated External Window Cleaning Solutions Across London Today
If you're ready to learn more about professional external window cleaning services and how these might work for your business, don't hesitate to contact our experts at NextDoorCleaning today. We understand the importance of professional external window cleaning better than most, so we're proud to be one of London's leading teams of carpet cleaners and exterior window cleaning experts.
Bring your external windows into excellent condition once more with our unique services! We don't need a water supply, as we use all our pure water; it's just one of the ways we can make a massive difference in your home!
Why Next Door Cleaning ltd?
What People Say About Our Work
Where We Work In London?
West London and Central London: Chelsea, Fulham, Ealing, Hammersmith, Kensington, Brentford, Southall, Ashford, Isleworth, Hounslow, Kingston, Twickenham, Richmond, Pinner, Harrow, Windsor, Slough, Wimbledon, Wembley, Chiswick. We cover West and Central London. So, if you've got a stubborn stain that just won't go away, don't leave it on your carpet any longer. Let our team of trained cleaners and top-grade equipment help you out.
Areas and Postcodes We Cover in and Around London
W1; WC1; Wc2; NW1; EC4A; EC4Y; NW13; NW14; NW15; NW16; NW6; NW8; SW1A; SW1E; SW1H; SW1P; SW1V; SW1W; SW1X; SW1Y; W10; W11; W1B; 
W14; W8; W9; W10; W12; W2; SW7; SW10; SW5; W11; SW1W; NW10; SW3;
Are You Ready To Book Your Window Cleaning Service?
Our experts can provide professional window cleaning support for all London Boroughs and anywhere around the M25. We are immensely proud to use some of the leading high-end equipment as part of our cleaning services; it's just part of guaranteeing excellent customer results without compromise.
Booking is almost effortless – so why not request your free estimate quote today?